The citizens of the Internet love a good puzzle, and somewhere out there, people are keeping busy crafting these brain teasers. If you're looking for inspiration to make one of your own, it may be worth your time to read over a few of these successful ones!
1. The fruit puzzle: Sometime last December, this seemingly simple puzzle made its way onto Facebook.
Let's dig in: Three apples equal 30, so one must equal 10, right? Then a second equation adds four bananas, which seem to be worth four, and two halves of a coconut, which seem to be worth one combined. The third part is where it gets tricky, as it asks for the sum of a half of a coconut, an apple, and a banana bunch that's missing a banana. It seems like the total should be 14, but discussions have gone way deeper than that, with puzzlers coming up with their own ideas about what the value of each fruit is.
2. The Great Dress Debate of 2015: The greatest debate of our generation... was the lace-trimmed dress blue and black OR white and gold?! Everyone from Mindy Kaling to HLN's own Dr. Drew weighed in on the controversy.
3. Find the panda in the sea of snowmen? Artist Gergely Dudas shared this design and posed a simple question to his Facebook fans... can you find the panda? It resulted in more than 185,000 shares and a whole lot of other variations for puzzle enthusiasts.
4. When is Cheryl's birthday? Kenneth Kong, a Singapore TV host, asked his Facebook fans for help solving a word problem. It spurred a bit of a frenzy on the Internet with the hashtag #CherylsBirthday and some more creative solutions. Spoiler alert: Cheryl's birthday is July 16.
5. Is this cat going up OR down the stairs? No matter which way Twitter analyzed the cat's movements or shape of the stairs, this puzzle is STILL unsolved.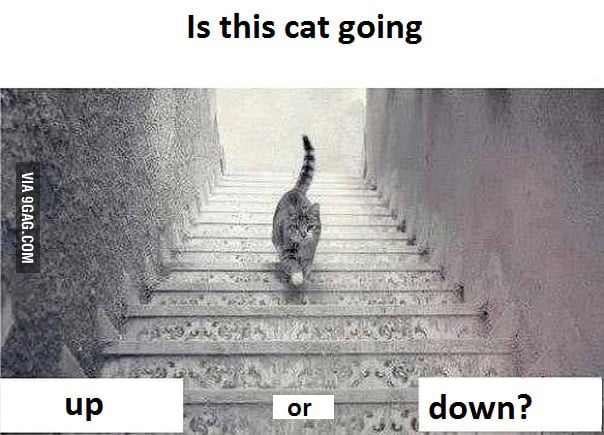 6. Which nail polish is a perfect match for these shoes?: Chances are if you debated "The Dress," its sequel haunted your waking thoughts as well. Twitter user @TotallyMendes tweeted out a simple question: Which nail polish matches the shoe best? The result: Another great debate that divided the Internet.