If you were alive in 1984 and went to a movie theater that year, you likely saw "Purple Rain." Unless your parents were religious. In that case, you likely wouldn't be allowed to see it, which meant you had to sneak out the window late at night and catch the midnight show. We know you did it, too.
Sunday marked the 30th anniversary of Prince's rock epic. The film broadly proclaimed that Prince was one-of-a-kind, and the corresponding album is also considered to be one of the best rock albums of all time.
Prince wanted it to be clear he was the king of the universe, you see. Which we've never really doubted since. But in case you weren't convinced, we've rounded up some proof in action.
1. Prince never doubts that his hair looks better than yours.
In fact, he caresses it lovingly, because those curls are perfection defined.
Via Princegifs.tumblr.com
2. He's not afraid to show off his chest hair.
Via Princegifs.tumblr.com
3. He has zero doubts about his own masculinity.
The man wears LACE GLOVES and doesn't care if you like it or not. Now move out of the way!
Via Princegifs.tumblr.com
4. He bathes wearing a white scarf.
This could be the secret to his eternally youthful look.
Via Princegifs.tumblr.com
5. He knows what he wants out of life.
And if it's you that he wants, you HUSTLE when he says so.
Via Princegifs.tumblr.com
6. He changed his name to a symbol, because he does not care if you can't pronounce it.
Figure it out. That's your problem.
Via Princegifs.tumblr.com
7. He doesn't need your help to take off his clothes.
He's more than willing to do the job himself.
Via Princegifs.tumblr.com
8. He accepts people as they are, not how he wishes they would be.
Prince understands many of the secrets to being happy in life. He's clearly got this one down.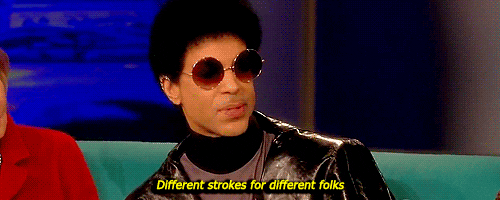 Giphy.com
9. He doesn't care if you think he's hot. Control yourself.
Get in line, lady. Lots of ladies want in on this.
Mouthymag.com
10. He's 100% dedicated to being himself, and you can love it or leave it.
Yep. No compromise here.