"Mortal Kombat" is back, this time with more realistic graphics, and the signature kill moves that continue to satiate the game's most devoted fans.
NetherRealm (part of Warner Bros. Interactive), the studio that makes "Mortal Kombat," made a splash Saturday at EVO 2014, the world's biggest fighting game tournament.
Ed Boon, "Mortal Kombat's" co-creator, hinted of a surprise earlier Saturday, tweeting that it would be "a shocker." And the company did not disappoint, announcing a 2015 release date for "Mortal Kombat X," its 10th edition, and revealing that it was bringing back the beloved thunderbolt-wielding character, Raiden.
But what's different this time is that even diehard fans, many of whom are longtime MK fans who have relished virtually snapping an opponent's spine for years -- have begun to express dismay at some of the blood-spraying imagery of the game.
On Reddit recently, a thread talking about the finishing moves featured comments from several "Mortal Kombat" fans who were taken aback by the sadism in the last offering. "I understand that they are supposed to be bloody, but it's getting disturbing," said one user. Another wrote: "Honestly the new ones aren't that cool to me, it seems like they just try to be as gruesome as possible. It's all about the creative fatalities and animalities."
What you see today is a far cry from the stilted and pixelated fight scenes of 1992 when the game first hit video stores. There were fighting games before "Mortal Kombat," but not like this.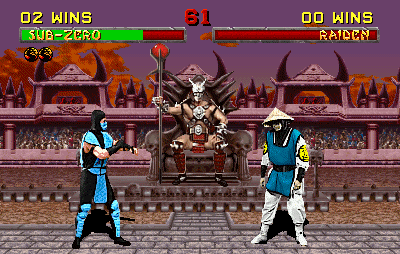 The game was no stranger to controversy, even then. Then-Sen. Joe Lieberman even led a congressional hearing on the issue? Their main complaint? That the games were being marketed to children.
"We're talking about video games that too often glorify violence and teach children to enjoy inflicting the most gruesome forms of cruelty imaginable," he said at the time. A ratings system was put into place that seemed to satisfy both sides.
Fast forward a couple decades and what we have now is a game that shows how it looks for an opponent to be disemboweled or dismembered. A particularly popular feature introduced in recent years -- and on display in tease videos for MKX -- is the X-Ray effect, which shows you the up-close damage to the skeleton and internal organs at the moment of impact.
HLN reached out to NetherRealm for comment but has not heard back. Boon, NetherRealm's creative director, says in a Youtube video that the company takes great pride in its deathly fight sequences.
"We have fatality meetings," Boon said in one interview. "Some of the stuff we've done we've wondered about but there's been a number of things that've been presented … they're so bad I don't even like talking about it," he said.
Dr. Bruce Bartholow, a psychology professor at the University of Missouri, told HLN that the increased realism of the game could have real-life implications, but in a limited way.
"In theory, game realism could have important effects," he said in an email interview. "A number of theories of video game effects note that video games are very effective teaching tools, in that they have specific contingencies for rewards and losses and encourage players to keep practicing until they master various aspects. This is true regardless of specific game content."
Bartholow stopped short in making a direct connection to video game realism and real-life violence.
"If we think of games in this way, then it should be the case that the more similar a game is to a player's natural environment, the more effective it will be in 'teaching' applicable skills. In the case of violent games, then, a more realistic violent game might be one in which game characters face situations similar to those that could be faced in players' everyday (i.e., nongaming) lives."
Yet it would be disingenuous to say that the Reddit thread mentioned earlier had a great many critics to the violent game. Of course, many would argue that if you are a fan of Mortal Kombat, it is precisely because of the engrossing storylines of the characters and the creative and absurd ways you can kill an opponent. But with the hyper-realism available in today's games, is it going too far to depict blood spraying into the mouth of the victor? Or to have a person be decapitated and the skull smashed with relished enthusiasm?
Peep how a writer for Gamemoir.com, a gaming site, quotes a fatality in MKX as described by a person who played the game at the E3 conference:
"You're assuming he's going to chop his head off. But that's not actually what he does. He literally chops off the front of his face and, I kid you not, you see the front of this dude's face slide off like… like halfway off while it's still talking and moving."
Umm, yeah.
Mortal Kombat X has already spawned social media reaction, including a YouTube parody and a hapless Change.org petition to tone down the violence and "make it in to a teen game. So parents would not have to worry about their kids seeing gore in the violence in the game."
Meanwhile, Bartholow, the psychology professor, said the game can be a good teacher in real life, as far as aggression is concerned -- but so can any game.
"To the extent that a player learns to make specific aggressive or violent responses in the context of the game, those same skills could transfer to similar scenarios outside the game, potentially increasing aggression in nongaming situations," Bartholow said.