'With Mogwai comes much responsibility'
And with that, American movie audiences witnessed the comedy-horror fest known as "Gremlins" when it debuted in U.S. theaters on June 8, 1984. The film would be the result of a strange convergence of Hollywood might, Steven Spielberg and furry puppets.
The plot? Just add water and watch cute, adorable furballs turn into green, scaly demons. With tidbits culled from IMDB, we've pulled together seven things that really stand out about the movie, which is about a father who wants to surprise his son with a really unique Christmas present.
1. The movie was written to be much darker
In the original script written by Chris Columbus, the Gremlins kill the dog and decapitate the mom, tossing her head down the stairs. Wanting to appeal to families, Steven Spielberg and Warner Bros. fortunately nixed those plans (WHEW).
2. Stripe and Gizmo were originally the same animal
ViaGoobledygeek
Also in the first script, Gizmo was supposed to turn into Stripe the Gremlin, but Spielberg overruled the writers because he wanted Gizmo to be the hero throughout the film, so that the audience could identify with him until the end.
3. Nobody knows 'Howie' does it
Via Getty Images
Gizmo's voice was provided by comedian and "St. Elsewhere" star Howie Mandel. Interesting, the part where Gizmo sings and hums a song was not done by Mandel, though. A girl from writer Jerry Goldsmith's church was hired to sing it, although she was a novice at the time.
4. 'Gremlins' & 'Back To The Future' share ZIP codes
The set for Kingston Falls, the imaginary neighborhood of the family, is the same one used for the 1985 film " Back to the Future." The Universal Studios backlot is where both movies were made.
5. This scene pays tribute to a gruesome horror film
Arguably one of the most startling scenes in the film, in which Stripe tries to cut Billy with a chainsaw in a department store, was not even in the original script. Director Joe Dante and actor Zach Galligan added the attack as a homage to the 1974 film " The Texas Chainsaw Massacre."
6. This was almost a Tim Burton film
Via Getty Images
Spielberg was so impressed with his short films that he considered filmmaker Tim Burton to direct "Gremlins." Because Burton had never done a full-length feature before, Spielberg decided against it. Burton would score years later with the dark and humorous "Beetlejuice."
7. Stripe is the only Gremlin to die from sunlight
There are three rules you absolutely, positively must follow when keeping a Mogwai.
We see what happens when the rules are broken, but interestingly, Stripe is the only Gremlin to die from sunlight.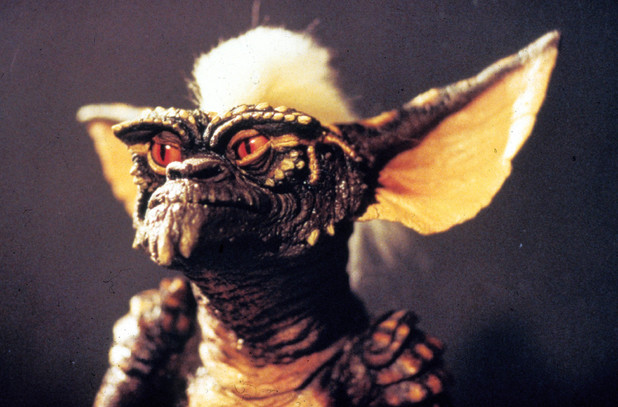 BONUS: There was a second 'Gremlins' movie, remember?
"Gremlins 2: The New Batch" was released in 1990 and made more than $41 million domestically at the box office. To date, the original film made more than $148 million domestically, according to Box Office Mojo.